This week I am showing you how to access ClickView online, which is the cloud based version of the ClickView player that many of you would be familiar with. ClickView online allows you to access all of the same videos as the player but has many other features. Today I am going to show you how to log in, search the library, create playlists and also how to share the videos to you class so that they are able to access the videos either on their own devices at school or home or other school devices.
1. Go to the school Portal Page and choose clickview online.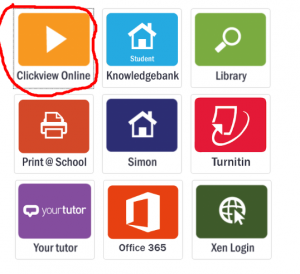 2. Enter your school username and password which you enter to log onto the computers and email.
3. You are now at the school clickview online home page. From here you can search for content in the library, and once you find the video you want to watch and click on it.
4. Once the video has opened, you have a number of options, first option is to watch the video, if this is what you want to do then all you need to do is make the video full screen.
5. Option 2 is to make a playlist which you can add to so that when you log in at a later date the videos you have saved are there ready to watch.
6. The final option that I am covering today is the ability to share the video. This option provides you with a link that you are able to put into SIMON learning areas and then make available to students.
The use of ClickView online is recommended over the click view player as it allows you to customise many of the options when viewing, and sharing with Students. Next week I will further explain sharing videos in SIMON Learning areas, using playlists and how to upload your own videos using your device. Keep your eyes out for this next instalment. As always if you need any further support please contact your ICT coaches.